Replica Edge Connector Clamp Cards - GOLD plated, Silver Solder Available. Shipping Included.
Ask about bulk orders of 100 or more for your saber runs. Bulk orders get the name of your company/title of your run on the edge of the card
A: ESB Plain
B: ESB Silver Soldered


C: ROTJV2 Plain
D: ROTJV2 Silver Soldered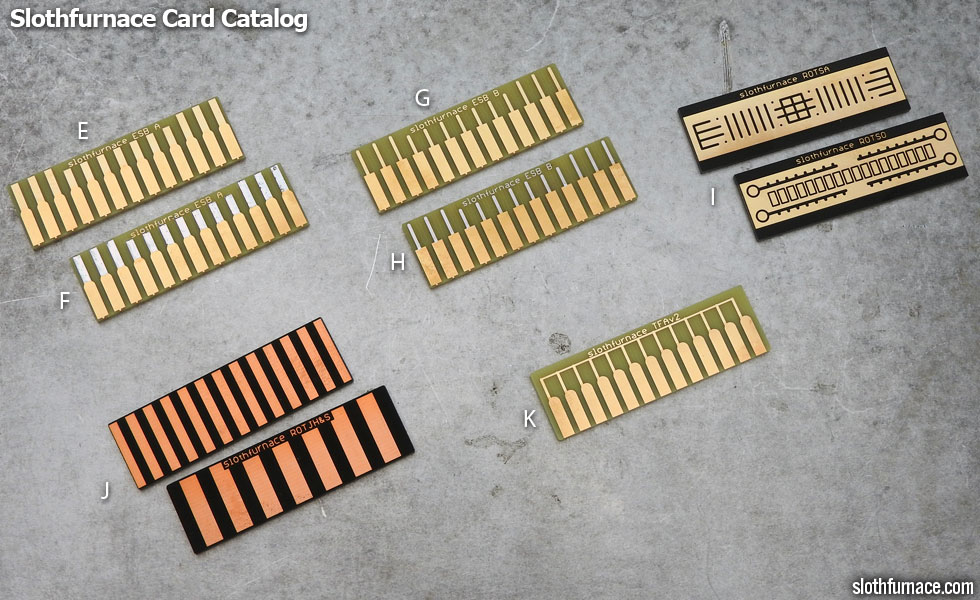 E: ESB Side A Plain
F: ESB Side A Silver Soldered


G: ESB Side B Plain
H: ESB Side B Silver Soldered
I: ROTSA / ROTSO Gold Plated, Black Soldermask

J: ROTJ Hero / Stunt: Bare copper, black soldermask


K: TFA Lefthand Trace: 1sided board no solder






Order below: BOLD indicates most screen accurate version
A/B/C/D:ROTJV2/ESB Clamp Cards:
ESB on one side, ROTJV2 on the other


Plain - Gold plated, no silver solder: $21
Silver Solder on ESB side: $26
Silver Solder on ROTJV2 side: $30
Silver Solder on both sides: $34
E/F/G/H: ESBA/ESBB Clamp Cards:
Thick traces on one side, Thin traces on the other


Plain - Gold plated, no silver solder: $21
Silver Solder on ESB Side A: $26
Silver Solder on ESB Side B: $26
Silver Solder on both sides: $32
I: ROTSA/ROTSO Clamp Card: $25
ROTS Anakin on one side, ROTS Obi on the other
Gold plated & black soldermask on both sides

J: ROTJ Hero & Stunt Clamp Card: $20
ROTJ Hero on one side, ROTJ Stunt on the other
Bare copper & black soldermask on both sides

K:TFA Lefthand Trace One-sided Clamp Cards: $20
Gold plated traces, opposite side is blank

Sold out. Please email me at bradley@slothfurnace.com to be alerted when the new batch gets here.
Please allow up to seven to ten working days to get your order shipped. I solder these by hand, and have experienced an unprecedented amount of orders for these. Thank you for your patience!

This site and my works have been featured by the kind folks below. Thank you so much from the bottom of the slothfurnace!
ANH Obi Epic Reveal was the grand prize winner of the 2012 Instructables/Thinkgeek Sci-Fi contest
MSNBC Today - c|net feature and gallery - SWTORStrategies.com - 8BitDad
Notcot.org - GeekTyrant - The Escapist on the ROTJ Luke - WIRED - Geekologie - Gizmodo - The Daily What
MAKE Magazine: ROTJ Luke - Hack a Day: ROTJ Luke - Slothfurnace on Reddit - Slothfurnace gets Slashdotted
The Escapist on the ANH Luke - Neatorama - io9 - ANH Obi on MAKE Magazine's blog - Hack a Day: ANH Obi
BioWare's The Old Republic lightsaber assembly ( I made the pieces in the cinematic to match my ANH Graflex internals.)